Amusing August Blog Hop (Guilty Pleasure)
It's week three of the Amusing August Blog Hop, so you know what that means! It's time to share some laughs and meet new friends. :)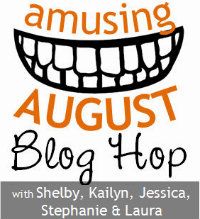 <a href="http://shelbychasingbirdies.blogspot.com/"><img src="http://i1091.photobucket.com/albums/i399/sweetconfessions/bloghop3.jpg" width="200" height="219" alt="Chasing Birdies" /></a>
Rules
- Follow each of your co-hosts before linking up:
- Place the above button in your post.
- Click on the other bloggers that have linked up, leave comments, and make new friends! I'm sure all of us will have some laughs along the way.
Week Three: Tuesday, August 21, 2012
What are your guilty pleasures?
You know, those things you love even though they're embarrassing or weird!
Okay so since we know from last week was about food I'm not going to talk about my food guilty pleasures...how about I focus on the worse one of all...television.
I haven't had television (in that pay for it every month cable kind of way) since 2008 or so. However, I do have internet which means Netflix and Hulu. So television does still happen in my life - just minus those obnoxious commercials.
Here are my Guilty Pleasures TV Edition:
Castle. It's one of the handful of crime shows I just can't get enough of.


The Mentalist. Waiting for the next season on Netflix because season 4 left
me with my jaw on the ground yelling WHAT THE F***??!!
NCIS. My favorite crime show of all time. I own all the seasons and can
watch them over and over again. Can't wait to buy season nine (haven't seen)
Grimm. Part crime show part fantasy. I also love that it takes place in Portland,
where I live, and recognize places all the time!! Season two is now on playing. Yay!
True Blood. Not a "crime show" but certainly has it's fair share of crime.
I also enjoy a good fantasy program now and then and this raunchy program
takes good care of me. haha. I blame my BFF for getting me hooked.
So what are your guilty pleasures?