Amusing August Blog Hop (Embarrassment)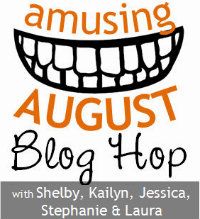 Amusing August Blog Hop with co-hosts:
Shelby at Chasing Birdies
Stephanie & Laura at The Brunette Duet
Kailyn at Wandering Free
Jessica at Before the I Do's
This hop will go live every Tuesday in August and stay open for one week. That means the first one is...TODAY!
Each week will have a different theme, but all of them will be very amusing!
Looking forward to reading all of your posts, but first, you must know the rules (don't worry, there are only a few!).
Rules:
Follow each of your co-hosts before linking up.
Place the above button in your post each week.
Click on the other bloggers that have linked up, leave comments, and make new friends!
I'm sure all of us will have some laughs along the way. Sound good? Okay, now on to the most fun part!!
Week One: Tuesday, August 7, 2012
What is the most embarrassing thing that's ever happened to you?
* * *
That's an easy once. I (re)blogged about it last month during a July 15 Day Challenge. To give you an idea it involves my first company holiday party (with the school I currently work at), a low cut cocktail dress and a coin toss....can you piece that together? Read about it
here
.