15 Day Blogger Challenge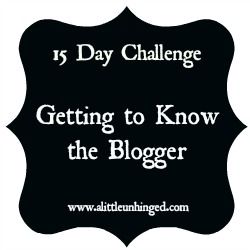 I think I'm pretty open with my readers about my life and who I am. Heck I know friends/family who have discovered things about me via my blog. Haha. But when I saw
A Little Unhinged
's post today about having your audience know you better I thought it sounded like a fun idea.
Here is what Bonnie has set up for Day 1:
15 Day Blogger Challenge - Getting to Know the Blogger
1. Introduction to this Challenge and tell us a little about yourself!
A little something about me... that won't come up in later entries....
I've been blogging for about three years now (which is crazy to think about) - I started shortly after my 27th birthday. It was a way to express my experiences and struggles as a late-20something woman and eventually developed to include my love of food and fashion.
I've found it a nice way to share thoughts, concerns and stories of the (enjoyable and sometimes frustrating) chaos that is my life. :)
I'm also open to having guest bloggers, or even suggestions of what you'd like to see me blog about, and guest blogging on others sites too.
I hope you enjoy the next few "Getting to Know the Blogger" entries. :)