Where Did You Grow Up (15 Day Challenge)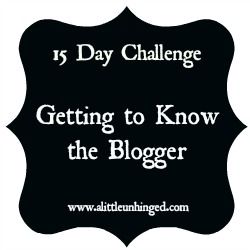 Day 2 of the 15 Day "Get to Know the Blogger" Challenge:
Where did you grow up? Small town or Big city?
This is always a tad of a complex answer - far from short and sweet.
It's not because I grew up a military or diplomats child who got to travel from place to place.
Actually it's the exact opposite.
My father was many things when I was growing up...but for purposes of keeping this with some N-17 language we'll use the phrase "insufficient provider". We moved around a lot when I was young (6 towns in 8 years) because he couldn't hold down a job or we'd be evicted. It wasn't until my parents divorced, and my mother moved us out on our own that I finally got to know what it was like to go from year to year to year with with the same house, friends and classmates.
Anyway. This isn't supposed to be a post about my dysfunctional childhood.
So when people ask "where are you from?" or "where did you grow up?" my answer is usually a simple "San Diego".
Which is true. I was born in a San Diego County hospital, lived there the first few years of my life (and again after college), as well as spent my childhood summers and holidays there visiting aunts/uncles/cousins (many of which still live there).
I just happened to have also lived in Riverside, Perris, Garner Valley, Anza, and Hemet as a child.
Most of my childhood years I lived in a small old farm community called Hemet, that over years is less farm and more empty strip malls. It's a sad and depressing town where the gang populations from Los Angeles are moving in and crime is on the rise, there's not much in the way of "things to do" for kids/teenagers (hell adults) excepts speed, sex or crime.
But this is where I eventually completed 4th-12th grade and while it's a town I don't ever plan to return to and would rather never look back I do have a number of good memories and it will be my "hometown" whether I like it or not.
My heart, family and love is San Diego though. That's where my father's family still lives and is probably the only city in Southern California I'd consider moving back to. I miss the people, the climate, and the culture. Maybe someday...