Sunny Summer Swap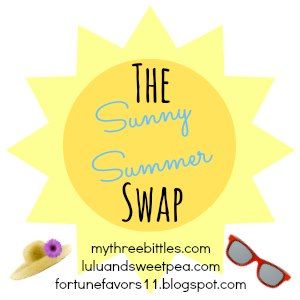 Even though June is my
busiest
time of year - organizing and structuring a graduation ceremony with 20 staff workers, 75 faculty and board platform members, 100 graduating students and upwards of 1,400 friends and family member audience members - I still signed up for
the June Sunny Summer Swap
.
Obviously I have been going about the world only at 1/2 capacity (okay maybe less) because it wasn't until I was getting ready to write this blog did I notice my Swap Partner was ONE OF THE SWAP HOSTS!
My box from her arrived yesterday, or I should say I got it out of the mailbox yesterday....I don't know how long it could have actually been sitting there....
AND I WAS SO EXCITED WITH WHAT SHE SENT ME!!!
Little does Sarah know that in those moments of me opening the box and unpacking my Sunny Summer Swap goods she became my hero and new BFF!! Look at the amazing things this woman sent me.
I'm always in need of a good travel mug. And was just thinking I needed a new one.
I was excited for a mini snake skin purple boot...and then I found out it had a manicure kit inside?! SCORE!!
I emailed Sarah that she just saved me money because I was in the market for some new nail polish! Love these colors.
And really I think she must be psychic or broken into my house to find out what books I needed to add to my bookshelf because these ROCK MY WORLD!
This was such an awesome experience. I wonder if it's a one time thing? I guess I could ask my Swap Buddy since she helped organize the whole shabang. lol
Yay for summer-time presents!
Okay now back to work.